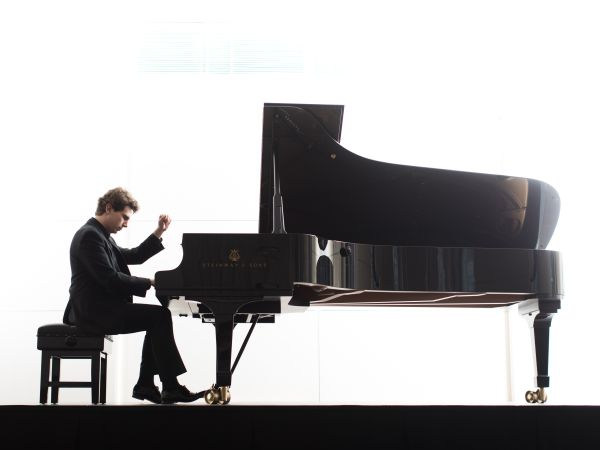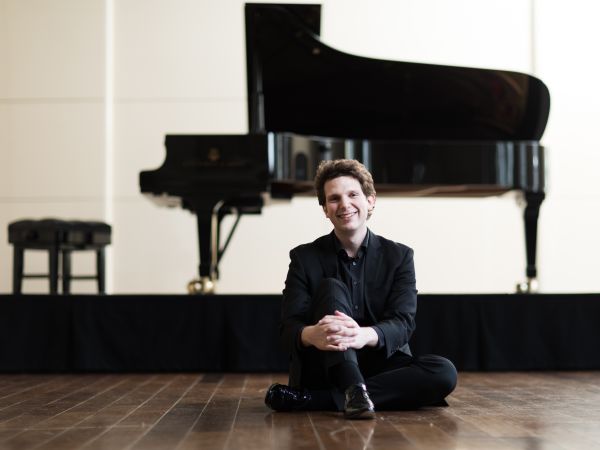 Internationally regarded for his compelling performances, Jayson Gillham has received numerous awards and prizes, reaching the finals of some of the world's leading piano competitions including the Leeds, Van Cliburn and Chopin Competitions. In 2014, Jayson was awarded First Prize in the Montreal International Music Competition. In May 2015 he signed a three-album recording contract with ABC Classics. Jayson Gillham performs across the globe, with recent and future highlights including engagements with the London Philharmonic Orchestra, Hallé Orchestra, the Melbourne and Queensland Symphony Orchestras; Orchestre Symphonique de Montréal, Wigmore Hall, Louvre Auditorium, Verbier Festival and Edinburgh Fringe. A passionate chamber musician, Jayson appears frequently in performances with the Jerusalem, Carducci, Brentano, Ruysdael and Flinders String Quartets.
Contact
Monika Wiktorowicz
ARTIST MANAGEMENT WORLDWIDE
monika@amworldwide.co.uk
+44 (0) 7535 267 557
Download publicity materials
"He seems very centred as a musician. He makes a very strong, firm sound, different from all the others [the other finalists]. He plays Beethoven in a very open, honest, secure way – with a sort of 'glow'… Always a lovely sound – gorgeous."
Sir Mark Elder, 2012 Leeds International Piano Competition
"Quite outstanding at every level… Gillham's sound remained thoroughly beautiful from pianissimo to fortissimo… A wonderful evening of first-class music-making!"
Musical Opinion (Wigmore Hall recital)
"Fluid, controlled and sophisticated. Every note, every nuance was carefully thought out with measured clarity and simplicity."
Courier Mail, Brisbane (Mozart Concerto K.595)
"A romantically fervent and technically flawless account"
North Shore Times, Sydney (Schumann Concerto)
"...not only beautifully sculpted phrasing but delicacy of line, a restrained approach matched by Gillham's sensitive pianism. His playing throughout was full of exquisite detail, his solo contributions – an impassioned Mélancolie by Poulenc and an affecting The Lover And The Nightingale – perfectly judged."                                                                                                            Limelight Magazine 
Internationally praised for his compelling performances, Australian-British pianist Jayson Gillham is recognised as one of the finest pianists of his generation. After receiving numerous prizes from some of the world's leading piano competitions including the Leeds and Van Cliburn, it was Jayson's win at the 2014 Montreal International Music Competition that brought him to international attention. His outstanding performance of Beethoven's Piano Concerto No. 4 was praised in the Canadian press and described as being played 'with absorbing and relentless elegance.'
In May 2015 Jayson signed a three-album recording contract with ABC Classics. His debut recital album featuring works by Bach, Schubert and Chopin was released in October 2016 and immediately reached the No.1 spot in both the Core Classical and Classical Crossover ARIA charts. This first release was soon followed by Jayson's highly acclaimed live recording of Beethoven Piano Concerto No 4 with the Sydney Symphony Orchestra under the baton of Vladimir Ashkenazy. Jayson's next CD album recorded in 2017 of works by Medtner and Rachmaninoff with the Melbourne Symphony Orchestra and Benjamin Northey received unanimous praise and was Recording of the Month at the Limelight Magazine. His solo album Romantic Bach, featuring original works and virtuoso piano transcriptions, was released internationally in January 2019.
Jayson Gillham performs with the world's leading orchestras with recent highlights including engagements with the Royal Philharmonic Orchestra and Alexander Shelley, Bournemouth Symphony with Victor Aviat, Sydney Symphony with Vladimir Ashkenazy at Sydney Opera House, Melbourne Symphony and Joshua Weilerstein, Adelaide Symphony with the late Sir Jeffrey Tate, West Australian Symphony with Asher Fisch, Auckland Philharmonic with Giordano Bellincampi, Christchurch Symphony with Benjamin Northey as well as the London Philharmonic Orchestra, English Chamber Orchestra, Nashville Symphony and Orchestre Symphonique de Montreal.
In recital, Jayson Gillham appeared at some of the world's most prestigious venues including the
Wigmore Hall, Birmingham Town Hall, Saffron Hall, Royal Nottingham Concert Hall, Barbican as well as Louvre Auditorium, Montreal Pollack Hall, Steinway Hall New York, Sydney City Recital Hall, Melbourne Recital Centre and the Queensland Performing Arts Centre. His festival highlights include performances at the Verbier Festival, Edinburgh Fringe, Brighton Festival and Two Moors Festival among others.
Chamber music forms an important part of Jayson Gillham's career. He frequently collaborates in
performance with the Jerusalem, Carducci, Brentano, Ruysdael and Flinders String Quartets. His 2018 tour with the innovative Manchester Collective took him to several high profile venues in the UK and the Netherlands. This season Jayson tours Australia with the renowned Australian soprano Nicole Car and baritone Etienne Dupuis with concerts in Sydney, Melbourne, Canberra and Brisbane.
Last season Jayson Gillham made his recital debut at the Barbican Hall in London as part of the venue's acclaimed Sound Unbound Festival. He also embarked on a highly successful complete Beethoven Concerti cycle with the Adelaide Symphony Orchestra and Nicholas Carter recorded live by ABC Classics and due for release in February 2020.
Season 2019/20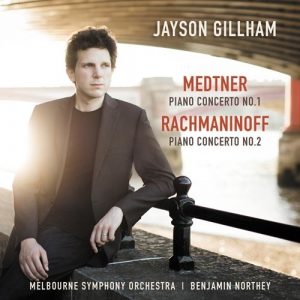 Click on cover to listen on ABC Music
Rachmaninoff: Piano Concerto No. 2 /Medtner: Piano Concerto No. 1
by Jayson Gillham & Benjamin Northey & Melbourne Symphony Orchestra
Click on cover to listen on ABC Music
Beethoven: Piano Concerto No. 4
Sydney Symphony Orchestra & Vladimir Ashkenazy & Jayson Gillham